Barcelona was our second European destination we visited on our trip last year. As our plane landed, our phones were going off with messages and calls enquiring after our safety. The tragic events at Las Ramblas had taken place whilst we were flying from London. A little shocked by the attack, we chose to spend our first day in our hotel and only exploring the nearby area to it. The following day we felt more at ease and so began to discover this lively city.
I've compiled the 5 things I would recommend as must sees and dos: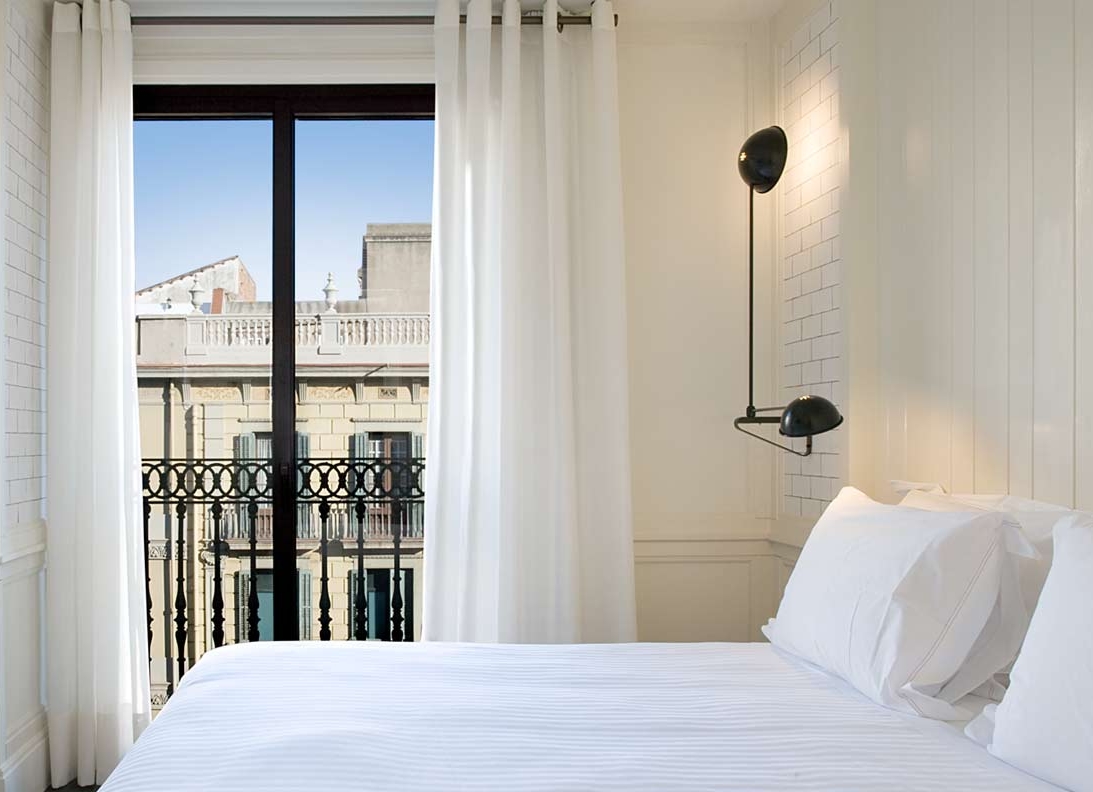 1/ STAY AT HOTEL PRAKTIK BAKERY
If you love the smell of freshly baked bread, then you would agree that nothing could be more heavenly then waking up to that scent every morning. For a unique stay in Barcelona, check out the Hotel Praktik Bakery.Where guests stay above an extremely popular bakery in Barcelona. The rooms are on the smaller side but have everything you need. You can open up your large window to waft in the bakery smells, and of course go down to the bakery to enjoy a 'guests only' buffet breakfast. I also love that you can see the bakers at work, with large windows into their kitchen. We enjoyed our stay here thoroughly and would highly recommend. Image from their website.
2/ Take a free gaudi walking tour
Barcelona is basically Gaudi's world so you best learn a thing or two about him! We took a free tour through Runner Beans. If you've never taken a free walking tour before, the way it works is that you decide the price! The tour run on a donation basis. The Gaudi tour runs for around 2.5 hours. You will need a train ticket, as some of the tour points will require hopping on the metro. Don't worry if you don't have a ticket, the guide will help you out at the station and you all travel together. Our guide was brilliant. It just wouldn't have been the same to see the sights without having a guide to answer all your questions. To see what sights are included in the tour, click here.
I recommend a visit to this magical park after you have taken the walking tour because you'll have a good background on the man Gaudi. Park Guell is home to the famous fairytale looking houses and gorgeously painted tiles. Pictured here is one of the houses you'll discover in the park, Casa Rosa. Everywhere you look is beyond photo-worthy. You will need to book your tickets in advance, and pick a time slot to visit. I also recommend getting a cab up the hill on the way there!
4/ Brunch at 'Brunch & Cake'
If gram-worthy bites are your thing then don't miss stopping by 'Brunch & Cake'. With sweet and savoury options, they definitely took my order of smashed avocado to the next level. And the juice smoothies were amazing! The staff are super friendly as well, which is always a plus.
A trip to Spain isn't complete without seeing an authentic flamenco show. We saw the 'Gran Gala Flamenco' at the Palau de la Musica. The theatre itself is a sight to see, so why not make it a full experience by booking tickets to a show. The performance was jaw dropping and probably my number one highlight from our entire stay in Barcelona. The theatre did not allow photos during the show, so pictured is an image of the theatre itself.